Pop-up Car Show
Saturday, July 27      The Downtown Art Gallery    416 Market Street, Lewisburg
2:00 p.m. – 6:00 p.m.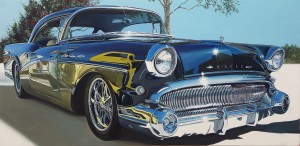 The Downtown Art Gallery, located at 416 Market Street invites you to join us during "Blues, Brew, and BBQs". in downtown Lewisburg with your classic cars! In conjunction with "Blues, Brew, and BBQs", the Downtown Art Gallery will host a pop-up car show in front of the gallery and in our parking lot next to Elizabeth's American Bistro. This public event will be in tandem with the new photo-realist exhibition, Cheryl Kelley: Detailed on view at the Downtown Art Gallery July 10- September  29.
Entry into the car show is FREE; simply email a description and photograph of your vehicle to Tracy Billet, tag010@bucknell.edu. There will be a public vote for "Best in Show." The winner will receive two tickets to the Baltimore Grand Prix August 30-September 1. Tickets include two nights in a double room at the Hilton, breakfast included. Each admission ticket allows access  to the track and all races during Grand Prix weekend. Second prize is free registration for your vehicle at any of the 2014 Carlisle Events.
Before the Car Show, see the Blues Brothers movie, courtesy of the Lewisburg Downtown Partnership, at the Campus Theatre at 1:00pm.
For more information on the pop-cup car show/showcasing your car, please email: tag010@bucknell.edu